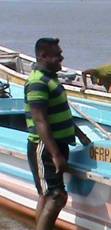 Mr. Vijeraj is 30 years old is living at Gurunagar is about to get into the boat.
We met Vijeraj for the first time in hospital when he was warded after amputation.
His history was pathetic. He used to help his father with his fishing as he could not continue his studies after GCE ordinary levels as he was not very bright at school.
It was in the year 2009 father and son were returning from the sea when the son's leg got injured by a land mine. Immediately he was taken to hospital and amputation was done below the level of the knee. After the wound healed he was sent home on crutches. He was very depressed. He thought that he will be a burden to his family and he wondered how he would  look after his wife and 3 children.
He came to know about the services provided by JJCDR and he visited the centre and in January 2010 he was fitted with a below prosthesis at JJCDR.
He was very happy as could walk without any help. His artificial leg was comfortable  like his normal leg. He became confident and now he is earning his living by fishing and even goes diving in deep sea.