Mobile camp
Under a series of programmes organized to mark the 30th anniversary, JJCDR conducted a free mobile camp for the benefit of the disabled persons in the Mullitivu district on 21.2.2017.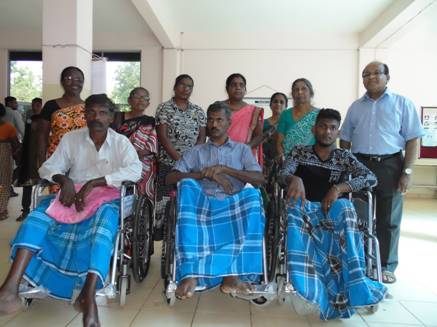 A large number of persons with disabilities received wheel chairs, crutches and commode stands. Casting for new limbs were done for patients who needed.
SKTAT Trust has provided wheel chairs free of charge ,Community Development Organization, Berendina Development Services (Guarantee) Ltd have provided financial support for the camp and Mrs.S.Ravichandran has provided counseling support.
With the help of Provincial Director of Health services Tools, equipments and staff were transported to Mancholai hospital.
Dr. V.Paramanathan from SKTAT Trust,Provincial Director,Department of Social Services, Director ,Mancholai Hospital, Divisional Secretary, Coordinator, Community Development Organization,Representatives from Berendina Development Services were the guests at the occasion.