Mr.Savaranapavan Kopikannan – Success story of a Jaipur beneficiary
Mr.Savaranapavan Kopikannan is 44 years old, lives with his wife and one and a half year child in Alaveddy West.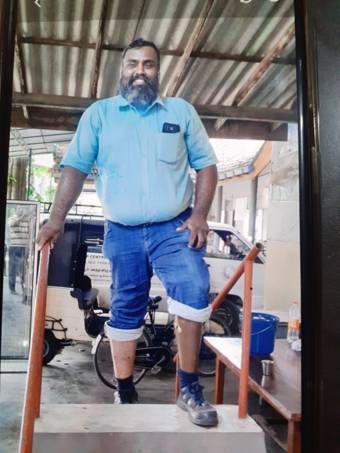 In the year of 2010, he lost his below knee due to the step mine blast in Maathalan area.
As a person with a disability, has experienced many barriers.
He was aware of the services of the Jaffna Jaipur Centre for Disability Rehabilitation.
He was assessed by the Physiotherapist and P & O and started the process of fitting prosthesis.
He was fitted with a comfortable in 2010. He lead a normal life with the below knee prosthesis, just like anyone else who is not disabled would.
Since 2010 he has been getting new prosthesis from time to time. At present he is working as a Samurdi Officer at the Tellipalai Divisional Secretariat. He also serves a president of the disability forum