Sellan Thangavel 36   years old and lives in Sarasalai South, Chavakachcheri, and he has congenital deformity. He is a beneficiary of JJCDR. Thangavel was keen to 'reach out' to companies, organisations but was rejected because of his deformity.
Staff of JJCDR to help him in finding a job, persuaded Board of Management of JJCDR to recruit Mr. Sellan Thangavel.
Soon after, Sellan Thangavel was recruited by JJCDR as a junior technician. Now he is confident, proud, empowered and happy.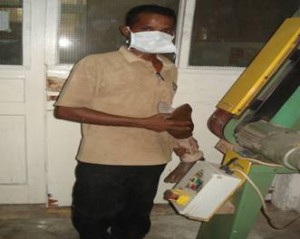 JJCDR is committed to the principle of equal employment opportunity forr all employees and to provide employees with a work environment free of discrimination and harassment.
All employment decisions at JJCDR based on service needs, job requirements and individual qualifications without regard to race, religion or disability.