Anniversary souvenir to mark the 28 years of dedicated service towards the welfare of the disabled person has been released on 25.7.2015.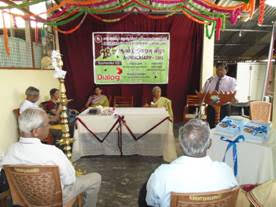 The timely publication of souvenir, which has always been rich in quality incorporating data , graphs, charts and photographs is useful in conveying information to the donors and other users of the souvenir. It also carries a wealth of information on disability.
JJCDR believes that the souvenir, is the best media through which JJCDR can display its transparency to the donors, beneficiaries and well-wishers
This function was presided over by Hon. Chairperson Dr (Mrs) J.Ganeshamoorthy
Mr& Mrs. Vethanayahan, Government Agent were the Chief guests.
Dr.R.Theivendran, Advisory Board Member released the souvenir and handed over the first copy to the Chief Guest.
Nallai Adheena Guru Muthalvar,Secretary to the Governor, Members of Board of Management ,Advisory board members, Orthopaedic Surgeon ,Teaching hospital, Nursing School Staff, and many distinguished guest were present at the event.